Below is the "Su" family tree dated back to the mid 1800's to the present time. This tree depicts the family tree of the "Su" family in Taiwan as it pertains to our system. The last generation depicted is that of Master Su Chin Miel's, from thereon the South African tree under Master Su Chin Miel takes over.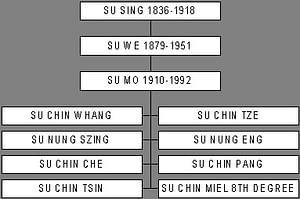 Below is the Shun Wu Tang lineage as on display in the Kung Fu village of Gaung Gou, Taiwan. In the 4th generation, 2nd to 5th from the right are the original four South African instructors. The original four instructors are Shifu Charles Gouws, Shifu Malcolm Hansen, Shifu Diëter Göttert and Shifu Evert Vink.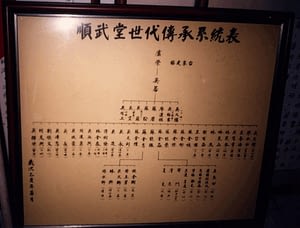 Below is the updated Su family tree including the head instructors from South Africa and France.
Below the the South African branch of the Family tree, specifically Durban.