GRANDMASTER CHIN MIEL SU
Master  Su is responsible for introducing the Shun Wu Tang  system to South Africa.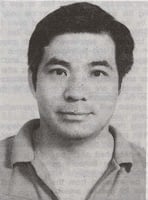 While in South Africa, Master Su built up a core group of instructors in the Shun Wu Tang system. These instructors were the basis of Shun Wu Tang in South Africa, who were tasked to grow the Shun Wu Tang family. Master Su was also instrumental in establishing the South African branch of the International Chinese Kuoshu Federation, the South African Chinese Kuoshu Authority.
Master Su grew up in Taiwan within his family Kung Fu village. From age of 3 years old, he was taught the family system of Shun Wu Tang. In High School, from about the age of 16 to 18, Master Su studied Western boxing and Northern Shaolin Quan.
While studying for his degree in Economics at Tong Wu University in Taipei, Master Su began studying Yang Tai Chi and many other styles of Chinese martial arts. It was also while at university, that Master Su began teaching martial arts.
During his compulsory 3 year military service, Master Su, due to his martial art background, was selected to be part of the President guard in the Military Police. The training  further complimented his already extensive martial art background. He had to undergo intense Tae Kwon Do training, attaining the  rank of 3rd dan, and training in military Chin Na, Shuai Jiao, Chen Tai Chi, as well as exposure to various other styles of Chinese martial arts.
During the mid 1980's, Master Su was tasked by the International Chinese Kuoshu Federation to start a South African branch of the ICKF. Master Su was resident in South Africa during the latter 1980's and early 1990's.
During this stay in South Africa, a group of instructors was established under the Shun Wu Tang banner. Under Master Su's guidance and under the SA Chinese Kuoshu Authority's banner, Shun Wu Tang exponents took part and excelled in numerous Kuoshu tournaments both nationally and internationally.
Master Su is currently working for the Economic arm of the Yunlin County local government, in Touliu, the county seat. Yunlin County is in the mid-West of Taiwan, some 200km south of Taipei.
He has been instrumental in getting Yunlin County to adopt martial arts in all local schools. In mid 2002 , 90 local (Taiwanese) schools adopted martial arts to their curriculum. 85 percent of the schools started teaching traditional kung fu, 10 percent Tae Kwon Do and the remaining 5 percent, Taiji. Master Su is currently teaching Kung Fu, Taiji and lion dancing at 82 local schools in the county(Taiwan). The schools cover the full spectrum from primary, junior & high school. The biggest school is a high school with around 1200 students. It must be noted that when it is mentioned that the student body is being taught, it is meant that the full student body is taught. This means that currently around 30 000 students are taught by Master Su in Taiwan ranging from the age of 5 upwards.
In 2002, Master Su arranged two National Taiwanese Kuoshu tournaments in his home county. The opening ceremony consisted  of a 1000 person demonstration of hand form then of weapon form. The weapon form section consisted of 4 weapons ie Jian, Dao, Pu Dao and Qiang. This was a co-ordinated set with 250 of each weapon being performed simultaneously.
Master Su frequently travels to different parts of the world, to conduct research and to teach Traditional Chinese Martial Arts, making sure that the Tradition is not lost. The senior instructors from around the world travel annually to the Kung Fu Village to live and train with Master Su. This is an ancient tradition that has long been lost in most martial arts today. In a world obsessed with business and money, most martial arts enthusiasts are lured by the flashy frills and thrills that the movies have created, and so are easily conned by good "businessmen" disguised as martial arts "masters". It is not uncommon for "Westerners" to pay ridiculous amounts of money to meet an old Chinese man in a park in China, take a few posed pictures next to him, and then claim that this man is his/her teacher! Indeed, this is sometimes the norm today. Master Su is NOT one of those impostors.
As is tradition in Martial Arts, it is very important to give your teacher Mian Zi or "face". Any student should/would be proud of their teacher(s) and as so, lineage plays a vital role in authentic Traditional Chinese Martial Arts. Today, it is extremely easy to gain information about anything thanks to the internet, and so there are many impostors that claim to teach Traditional Chinese Martial Arts, when in fact they may have learned (or not learned) online or from unqualified individuals, or belong to a governing body or school, with its OWN idea of what authentic Chinese Martial Arts means. Majority rules after all, right?
Master Su believes in students going to the source to see and experience the tradition in person. .  Hence all instructors MUST make the pilgrimage to the Kung Fu Village to break the stigmas and false truths about what Traditional Chinese Martial Arts is.
Speaking Mandarin, wearing silk pajamas, eating pop corn with chop sticks, living a (movie based) monk's life is NOT Kung Fu!