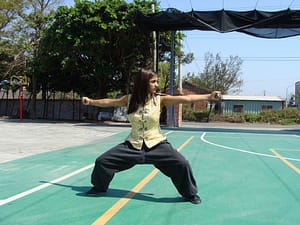 Keshree Chetty started her training in 2003 when the Kwoon was in Henry Road, Morningside. Prior to this, she had no interest in physical fitness and/or combat. She started training as a fun hobby and a means to keep fit. She trained diligently for several years and then entered and won her first Martial Arts tournament in 2006.
She developed great flexibility and due to her petite stature, developed a fighting strategy to close the distance between her and her opponent. She began to develop her Chin Na and Shuai Jiao techniques to help her in her close range fighting, while at the same time being able to execute high kicks inside the opponents' guard. This strategy has helped her become a good teacher to those who are similar in stature, as well as anyone know wants to better there distance and timing.
Keshree attained her Black Sash in 2010 and then embarked on a quest to better herself and develop to her full potential. She has attended many national and international training camps and seminars, and has visited and trained in the Kung Fu village (Taiwan) many times.  In 2014 she successfully graded to 3rd degree, making her the highest ranked female in the system today. 
In 2019 she graded to her 4th degree in a rigorous 9 day grading at the Kung Fu Village. 
Her qualifications as an educator specialising in early child development, makes her the ideal candidate to run the Kung Fu Kids program in KZN. She is also a mentor and role model to all the female students in the system and love to break the stereo typical roles that women have been given when it comes to physical fitness and combat. 
Profile
Name : Keshree
Rank : 4th Degree
Styles : Luohan, Tai Tzu, Da Tzun, Chin Na, Shuia Jiao, Sanda, Taiji,Yoga.
System : Shun Wu Tang
Province : KwaZulu Natal – Durban
Weapons of choice : Sai & Fan